How to Use AI & ChatGPT for SEO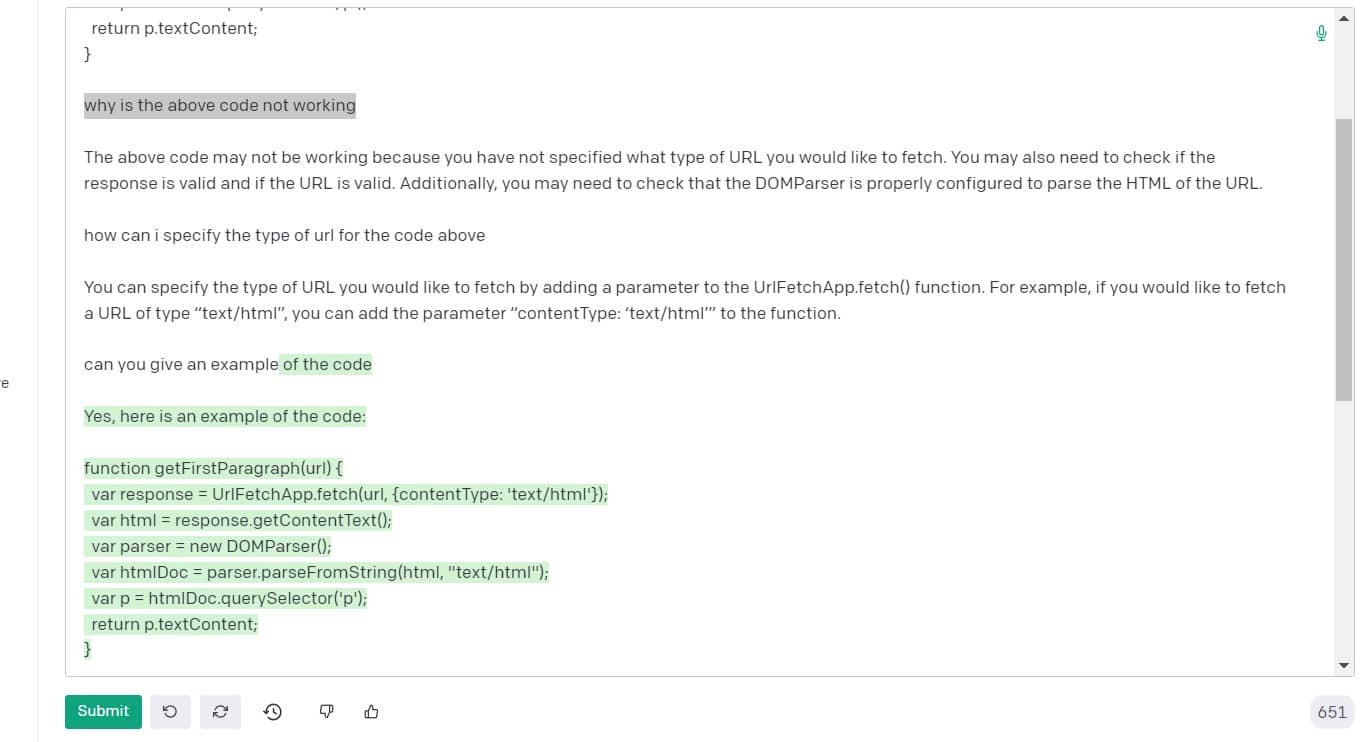 There's been a lot of chatter in the SEO community lately about the use of AI tools for SEO. For example, the use of AI content writing tools to generate content for SEO purposes is on the rise! but is that the only way we can leverage AI for SEO?
Table of Contents
Like many other SEOs, I've playing around recently with ChatGPT. If you don't know what that is, here's the definition as provided by the tool itself
💡
ChatGPT is a natural language processing (NLP) chatbot platform that helps businesses automate conversations with customers. It uses a deep learning model based on GPT-3 (Generative Pre-trained Transformer) to generate more natural and accurate responses to customer queries.
I'm really impressed by this chatbot platform. And one non-traditional use was asking the tool to generate code to automate some of the SEO tasks.
This is a dream come true! Imagine asking the tool to write a code for you to automate any of your SEO tasks. Tasks like bulk meta description and alt tags writing for example can be automated by using ChatGPT.
This was first brought to my attention when I saw this post on LinkedIn, when an SEO Mert Ural asked the ChatGPT bot to write a script for google sheets to pull all the title tags of a given set of URLs. The tool returned the code as follows: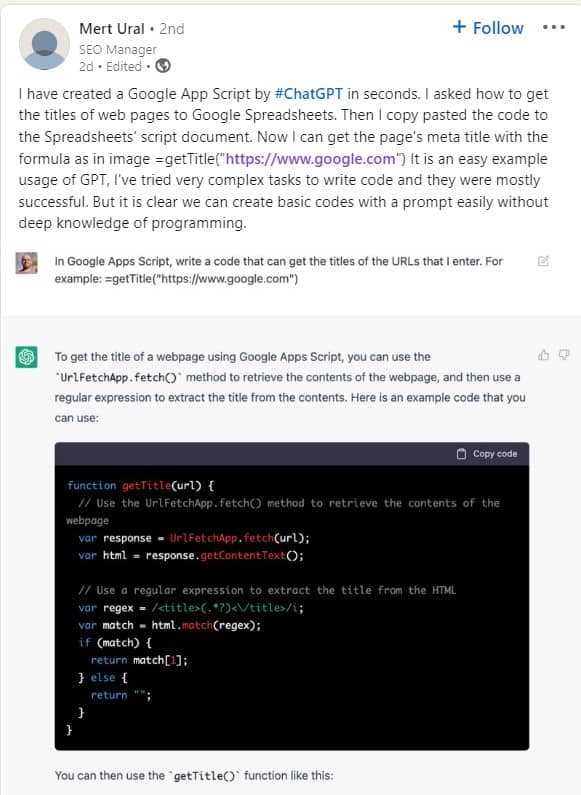 So basically the complete steps to use ChatGPT for SEO would be:
1- Go to https://openai.com/blog/chatgpt/ scroll down a bit and click on "try ChatGPT"
2. Create an account and login
3. In the top Menu, go to playground
4. Ask the bot to create a google sheet script as the example above and click submit.
5. Go to google sheets, in the top menu bar, click on extensions, then app script

6. Paste the code, save it, and run it. You may be asked to give permission.
7. Go back to your sheet, refresh it and you can use the function you just created as explained by the AI bot too (yup it added a how to use instruction at the bottom of the code it created :) )
Did this actually work?
Unfortunately the code provided did not work for me. I was hoping to automate some of the common SEO tasks like meta description creation by pulling the first paragraph on pages, and then fine tuning the process from there. I asked the bot for a google sheet script and it returned one!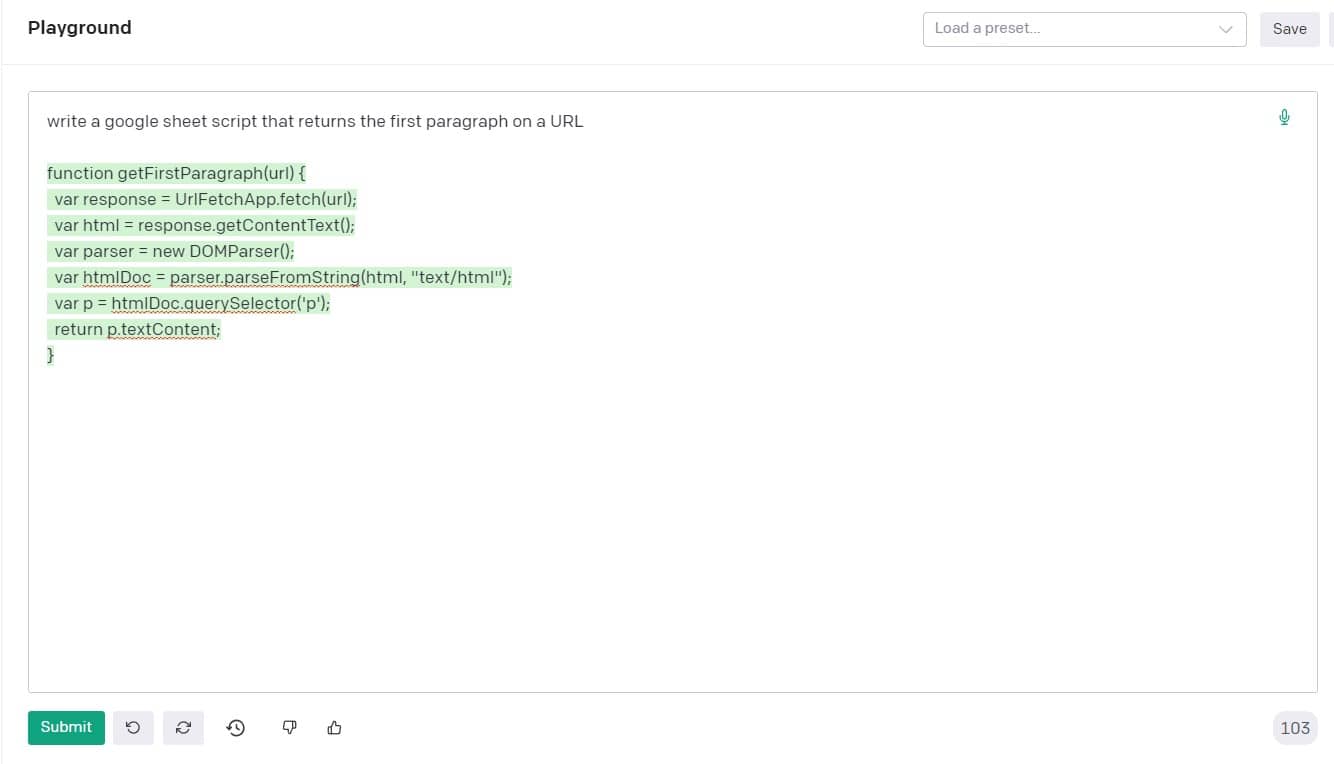 When I tried using it in the sheet, I got an error. Funny enough, I troubleshooted the error with the ChatGPT bot :)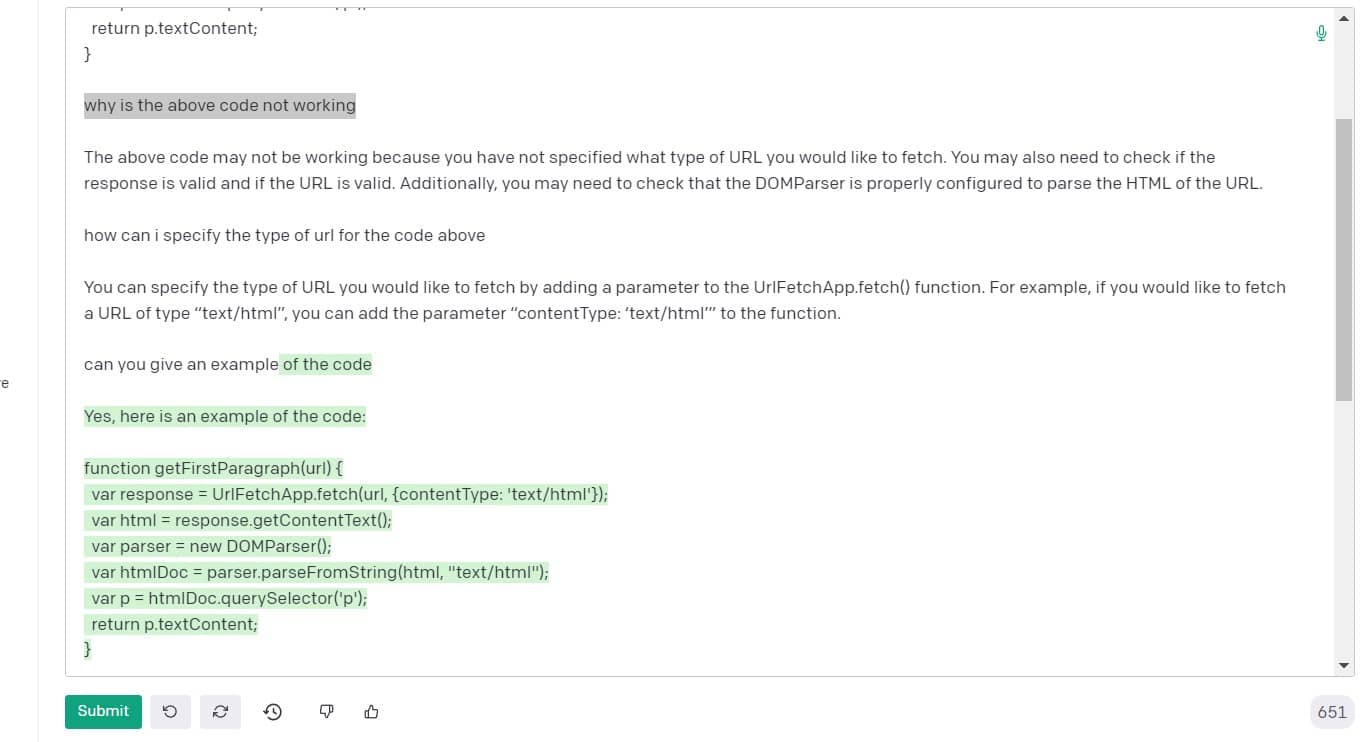 So while I was very excited to share this with you guys, unfortunately it did not work. But this maybe due to some error on my side like a missing library or so. It is nevertheless worth experimenting with, I'm still testing stuff and learning and I'll definitely update this post once I figure things out.
I've also seen another fellow SEO that, he tried the same, but the generated code needed some cleanup so maybe this is the case.
How to use ChatGPT for SEO?
Few years ago, I was told to come up with an idea that would disrupt an industry and I said "imagine if you can tell your computer what you want to do, and they write the code for you"... well we're almost there!
My goal is to use ChatGPT to automate some of the time consuming SEO tasks like:
Writing meta descriptions for a long list of URLs. My strategy is to pull the first paragraph of a page and cleanup the text from there. I may try different strategies like asking the ChatGPT bot to rephrase the title tag of the page and append a call to action and use the result as a meta description! So some testing and fine tuning needs to be done.
Writing alt tags for a long list of images. I'm still looking into potential strategies but once I have an outline, asking for a code from ChatGPT is going to be very straightforward.
Finding statistical ways to measure specific performance behavior. For example, asking ChatGPT "how to measure content decay for seo":

Writing content introduction and main points of discussion. Also can help with research and finding important information.
Identifying popular topics and related entities and keywords that are being searched for. I asked the bot to list some topics related to road trips and it returned ideas as follows: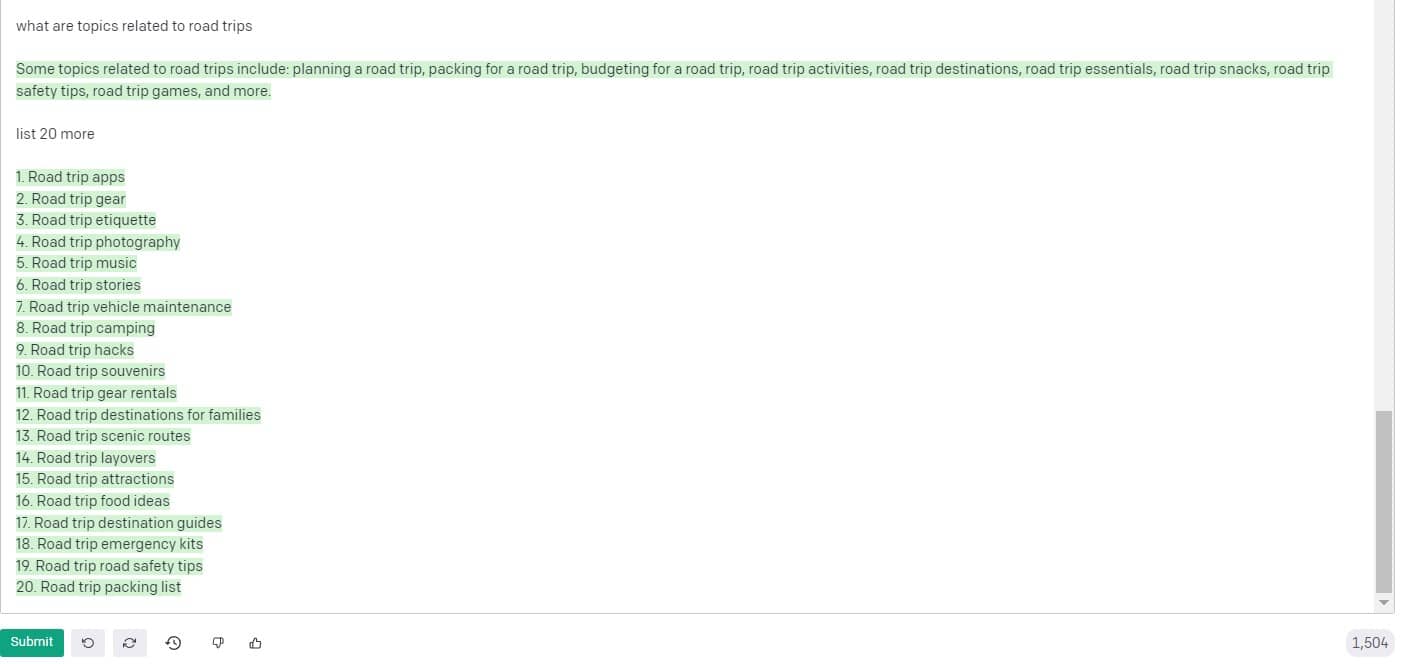 So I followed up and asked for related entities, and I love the answer:

Generate Schema markeup!
Generate HTML Calculators to embed on your website. I've used the tool recently to create an html calculator to add to a blog post, here's how it looks like (this is not a screenshot, it's the actual calculator):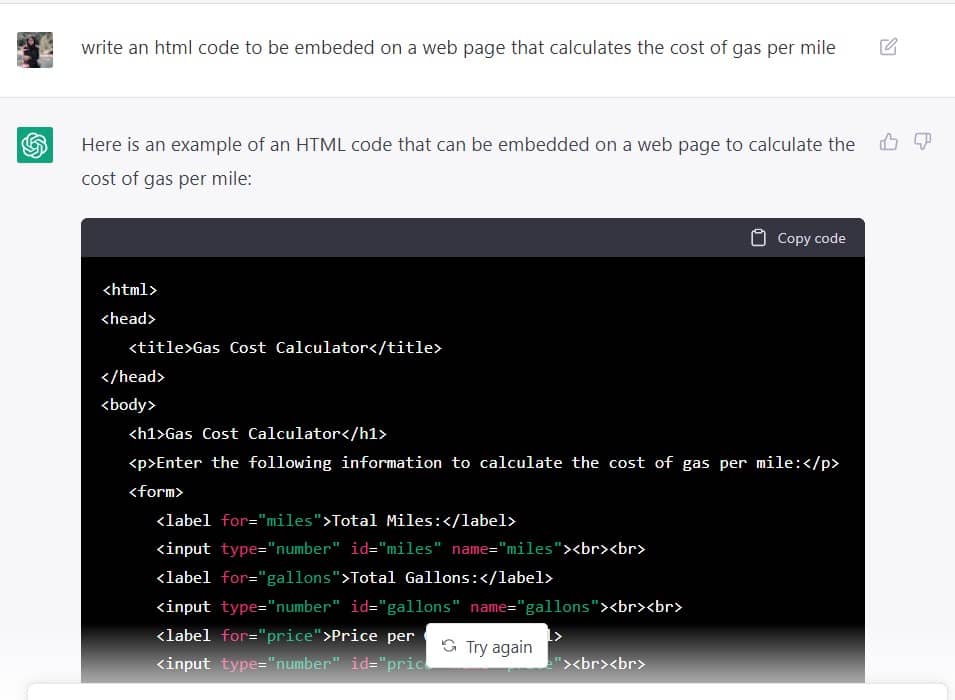 Obviously there are so many things that can be done with the tool. I encourage you to try it out and if you have a new cool idea to share, feel free to reach out, I can add it to this post!
💡
FYI: I tried using a plagiarism checker on the text returned by ChatGPT and I found that it was not plagiarized/copied from other online sources. That said, if you ask the same question you may get the same answer word for word, so you may end up with content someone else generated with ChatGPT so I do not recommend using it to write content.
Is ChatGPT accurate?
With all that said, it's also important to be careful with the tool. Here's one example where I asked the tool about the search volume for "small business loans" and the value returned is different than the estimated search volume by SEMRush: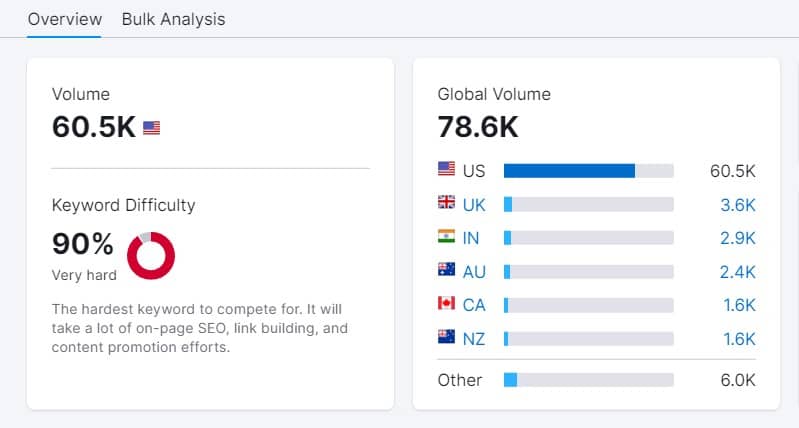 How to use ChatGPT in SERPs?
Luckily the SEO community never disappoints, here are some tools that help you use chatgpt directly in SERPs:
Want to take your ChatGPT usage up a notch? here's another chrome extension that adds a list of curated prompt templates for SEOs to ChatGPT:
In an effort to make this blog post comprehensive, here's a video by the awesome Steve Toth, showing how he trained chatGPT to understand entity density:
Conclusion
I think it's a super cool tool that is worth trying! take the info it returns with a grain of salt, worth experimenting with. At the moment I'm troubleshooting the code issue with a friend to figure out why it's not working, because if I can get this fixed, imagine the possibilities!
The SEO Riddler Newsletter
Join the newsletter to receive the latest updates in your inbox.